Kapsch TrafficCom and Exeger Enter …
Press Release 9. November 2023
Vienna / Stockholm2 min reading time
Kapsch TrafficCom and Exeger Enter Partnership to Develop Sustainable Hardware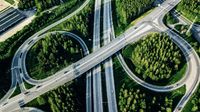 The cooperation utilizes Exeger's patented solar cell technology, Powerfoyle
Carbon reduction potential of up to 50%
Partnership enables Kapsch TrafficCom to further support a sustainable mobility ecosystem
Vienna/Stockholm, November 9, 2023 – Kapsch TrafficCom, a globally renowned provider of transportation solutions, today announces its strategic partnership with Exeger (www.exeger.com) to develop self-charging, environmentally friendly communications solutions.
Kapsch TrafficCom (KTC) will leverage Exeger's groundbreaking solar cell technology, Powerfoyle™, which converts all forms of light (including both natural outdoor and artificial indoor light) into clean, endless energy. By harnessing Exeger's patented technology, KTC can reduce the use of scarce resources within its products while enabling the company and its clients to operate more sustainably, reducing the carbon footprint of some devices by up to 50%.
Both KTC and Exeger are committed to manufacturing products with sustainability and convenience at their core. Powerfoyle solar cells are manufactured from non-toxic, abundantly available materials. Thanks to Exeger's unique printing technique, the solar cells can also be made into almost any shape or form. Its thin and flexible design allows it to be seamlessly integrated into products without compromising on visual aesthetics.
"Innovation is at the heart of what we do. Our partnership with Exeger reflects our commitment to developing cutting-edge technologies that not only enhance the efficiency of our products and solutions, but also embody our responsibility towards the environment," says Georg Kapsch, CEO of Kapsch TrafficCom. "This collaboration marks a pivotal moment for both companies as we make a further step on our journey to bring sustainable products to the transportation sector."
Georgios Foufas, Chief Commercial Officer at Exeger adds "This collaboration represents an exciting leap into a new market. Our journey has always been driven by a desire to create impactful and sustainable technologies that shape industries and the world at large. Partnering with Kapsch TrafficCom, a true leader in the intelligent traffic systems market, will set a new standard for sustainability in traffic and tolling management systems, opening new doors for innovation and showcasing the scope of what Powerfoyle can do."
Further details of the two companies' partnership will be announced in later this year.
Kapsch TrafficCom is a globally renowned provider of transportation solutions for sustainable mobility with successful projects in more than 50 countries. Innovative solutions in the application fields of tolling, tolling services, traffic management and demand management contribute to a healthy world without congestion.
With one-stop-shop solutions, the company covers the entire value chain of customers, from components to design and implementation to the operation of systems.
Kapsch TrafficCom, headquartered in Vienna, has subsidiaries and branches in more than 25 countries and is listed in the Prime Market segment of the Vienna Stock Exchange (ticker symbol: KTCG). In its 2022/23 financial year, about 4,000 employees generated revenues of EUR 553 million.
Exeger is a Swedish company with a unique solar cell technology that converts all forms of light into electrical energy. This material, Powerfoyle, is the world's only fully customizable solar cell. With its superior design properties, it can be integrated seamlessly into any electronic device.
Powerfoyle enhances every product it is integrated into with extended or even unlimited battery life, putting the power of cutting-edge solar cell technology directly in the hands of people. Exeger is leading the way to energy independence through more sustainable and user-friendly products – with the vision to touch the lives of a billion people by 2030.
Exeger press contact:
Karin Carlström
Karin.carlstrom@exeger.com
+46 70 358 2911