AI-based image recognition for tolling …
Press Release 6. April 2023
Vienna2 min reading time
AI-based image recognition for tolling and traffic management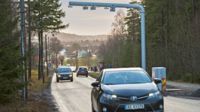 Vehicle number plate recognition crucial to many modern traffic applications
Artificial intelligence trained with hundreds of thousands of images
Vienna, April 6, 2023 – Kapsch TrafficCom recently released a major update to its Automatic Number Plate Recognition (ANPR) software. With the update, top performance can be achieved in the automatic recognition of number plates, depending on the application.
The latest release features a reworked architecture that includes various deep learning elements, resulting in a significant performance boost. With the new ANPR software, an artificial intelligence software was trained to accurately and reliably identify number plates with hundreds of thousands of images in a GDPR-compliant manner.
What is ANPR?
ANPR is a technology for reading and interpreting vehicle registration plates. It is indispensable for many modern tolling and traffic management applications, for example to determine the correct toll rate for a vehicle in a barrier-free tolling system or to determine access rights for low emission zones. However, because there are many different types of number plates that vary in legibility depending on cleanliness, lighting and weather conditions, accurately identifying them is a challenge.
Julia Azfar, mobility expert at Kapsch TrafficCom, comments: "The higher the level of automation, the more efficient the system can be, as this reduces the need for costly manual checking."
Continuous improvement is also a focus, explains Azfar: "Especially in projects with long durations and with high requirements, it can be worthwhile to benefit from the rapid technical development through regular updates. That's why we work closely with partner companies and suppliers to combine the latest technologies on the market with our own expertise in image processing and in artificial intelligence. That way we can guarantee premium quality, innovation and state-of-the-art services for our clients."
Training the software with the help of the "Responsible Annotation" project
In order to be able to identify images, the software has to be trained with information about the image content in addition to just the plain images, for example whether there is an Austrian or Italian license plate on a photo. This information is called annotation, and it is essential for the correct processing of the images by the system. If the software is fed with enough annotated images, it can subsequently process non-annotated images on its own.
This annotation of images was carried out by Kapsch TrafficCom as part of a pilot project in Vienna that introduces people who are disadvantaged in the job market to new occupational fields. The annotation and validation of data is a new field of work that will grow strongly in the coming years due to the increasing use of AI. Through the Responsible Annotation project, people at risk of exclusion are given a realistic pathway into the primary labour market.
Kapsch TrafficCom is a globally renowned provider of transportation solutions for sustainable mobility with successful projects in more than 50 countries. Innovative solutions in the application fields of tolling, tolling services, traffic management and demand management contribute to a healthy world without congestion.
With one-stop-shop-solutions, the company covers the entire value chain of customers, from components to design and implementation to the operation of systems.
Kapsch TrafficCom, headquartered in Vienna, has subsidiaries and branches in more than 25 countries and is listed in the Prime Market segment of the Vienna Stock Exchange (ticker symbol: KTCG). In its 2021/22 financial year, 4,220 employees generated revenues of about EUR 520 million.