Global sustainability platform CDP …
Press Release 22. December 2022
Vienna1 min reading time
Global sustainability platform CDP recognizes Kapsch TrafficCom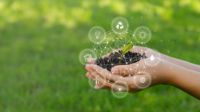 Vienna, December 22, 2022 – Kapsch TrafficCom is happy to announce that it is participating in the Carbon Disclosure Project (CDP) for the second time and has improved upon last year's rating.
This indicates that the company manages its environmental impact effectively and even better than last year and mirrors the efforts of the company to continuously improve its environmental performance.
CDP is a non-profit organization that runs the world's leading environmental disclosure platform. This initiative is highly renowned as more than 18,700 companies have already disclosed their environmental impact through their platform. Kapsch TrafficCom is proud to take part in this important program.
The effort to limit global warming and make a substantial contribution to environmental protection, is anchored in the company's DNA, as sustainability manager Juliane Höbarth highlights: "Creating a sustainable future of mobility is what drives us. Therefore, we are always working on improving our own environmental performance while trying to reduce emissions in the traffic sector."
Among the measures that the company is focusing on to achieve its sustainability goals is for example the Green Gantry, a gantry that is made out of wood (as opposed to steel), refurbishable on-board-units, or cloud-based IT solutions that no longer require resource-intensive on-premise server capacity. On top of that, measures to reduce our own carbon footprint, like extended use of electronic devices or emphasis on remote work, are continually introduced.
Kapsch TrafficCom is a globally renowned provider of transportation solutions for sustainable mobility with successful projects in more than 50 countries. Innovative solutions in the application fields of tolling, tolling services, traffic management and demand management contribute to a healthy world without congestion.
With one-stop-shop-solutions, the company covers the entire value chain of customers, from components to design and implementation to the operation of systems.
Kapsch TrafficCom, headquartered in Vienna, has subsidiaries and branches in more than 25 countries and is listed in the Prime Market segment of the Vienna Stock Exchange (ticker symbol: KTCG). In its 2021/22 financial year, 4,220 employees generated revenues of about EUR 520 million.