Austria: First calibrated vehicle scale…
Press Release 2. November 2023
Vienna2 min reading time
Austria: First calibrated vehicle scale for free flow traffic put into operation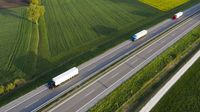 Kapsch TrafficCom has for the first time in Austria installed a system with calibration approval for precise measurements
Weight measurements in motorway free flow traffic technologically challenging
Vienna, November 2, 2023 – Overweight and overloaded vehicles cause high stress and heavy wear on roads, which significantly shortens the service life of the infrastructure.
In addition, overloaded vehicles pose extraordinary safety risks for other road users due to enormously extended braking distances. It is therefore important to ensure compliance with the maximum permissible vehicle and axle weights.
"We are very pleased that for the first time in Austria we have succeeded in bringing a weight measurement system for normal speeds into a calibratable accuracy class," says Thomas Reznicek, Sales Manager for Austria & Switzerland at Kapsch TrafficCom. "This now gives the authorities the opportunity to detect any overloads directly in free flow traffic without having to divert and stop the vehicles at specially equipped traffic control stations."
Systems for weight measurement at normal speeds (WIM - Weigh in Motion) determine the current axle and total weights within a few tenths of a second by means of precision sensors permanently installed in the road surface. The sensor system also detects the individual maximum permissible weight categories and the driving speeds of the passing vehicles. The data is used on the one hand to calculate the wear and tear on the infrastructure, and on the other hand to track violations.
Since 2015, Kapsch has installed ten WIM systems for ASFINAG in the free flow traffic of the Austrian highway and motorway network, including an IT center at the ASFINAG site in Inzersdorf near Vienna. On the A1 in Lower Austria, the first WIM system has now been specially upgraded to achieve the required accuracy class. After type approval and a demanding calibration, testing and acceptance procedure lasting several days, calibration was successfully carried out for the first time in Austria.
Kapsch TrafficCom is a globally renowned provider of transportation solutions for sustainable mobility with successful projects in more than 50 countries. Innovative solutions in the application fields of tolling, tolling services, traffic management and demand management contribute to a healthy world without congestion.
With one-stop-shop solutions, the company covers the entire value chain of customers, from components to design and implementation to the operation of systems.
Kapsch TrafficCom, headquartered in Vienna, has subsidiaries and branches in more than 25 countries and is listed in the Prime Market segment of the Vienna Stock Exchange (ticker symbol: KTCG). In its 2022/23 financial year, about 4,000 employees generated revenues of EUR 553 million.