Kapsch TrafficCom wins award for …
Press Release 18. October 2023
Vienna1 min reading time
Kapsch TrafficCom wins award for Responsible Annotation project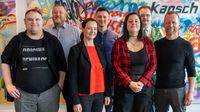 Award recognises efforts to integrate people with disabilities
Vienna, October 18, 2023 – Kapsch TrafficCom was awarded the prize for inclusion at the Austria's Leading Companies ceremony on Tuesday, October 17, 2023.
The prize recognises outstanding activities in the area of integrating people with disabilities into the world of work. Kapsch TrafficCom receives the prize for its Responsible Annotation initiative.
The project, which was started by Kapsch TrafficCom in 2019, gives young people and young adults who are at risk of exclusion the opportunity to enter professional life in the context of work training and to learn about new job opportunities in the field of data annotation and validation.
In the presence of proud members of the Responsible Annotation team, the award was jointly received by Carolin Treichl, EVP EMENA at Kapsch TrafficCom and Beate Fabian, project manager at Kapsch TrafficCom, at the ceremony at Casino Baden.
Carolin Treichl commented on the success: "I am very proud of the project and especially of the team, which is doing valuable work for the company. The award confirms us on our path – because we want to continue to be pioneers in inclusion and technology in the future."
Annotation as the basis for AI
Annotation is the addition of information and labels to data and is one of the fundamental requirements for modern AI – because the corresponding systems must be trained before they can work independently.
In order to open up this service offer to other companies, there is now also a separate association (annotation.at) that wants to promote an inclusive labour market around annotation and AI in Austria and sets corresponding offers.
Kapsch TrafficCom is a globally renowned provider of transportation solutions for sustainable mobility with successful projects in more than 50 countries. Innovative solutions in the application fields of tolling, tolling services, traffic management and demand management contribute to a healthy world without congestion.
With one-stop-shop solutions, the company covers the entire value chain of customers, from components to design and implementation to the operation of systems.
Kapsch TrafficCom, headquartered in Vienna, has subsidiaries and branches in more than 25 countries and is listed in the Prime Market segment of the Vienna Stock Exchange (ticker symbol: KTCG). In its 2022/23 financial year, about 4,000 employees generated revenues of EUR 553 million.