Kapsch to provide customer service for …
Press Release 17. October 2023
Vienna / Warsaw1 min reading time
Kapsch to provide customer service for Polish toll system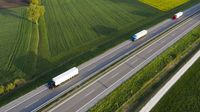 Contract worth PLN 62.87 million (around EUR 14 million)
Three-year contract period starting February 1, 2024
Vienna/Warsaw, October 17, 2023 – Kapsch TrafficCom announces that it has won the tender to provide direct customer service for the Polish e-TOLL.
The contract is worth PLN 62.87 million (as of October 16, 2023: around EUR 14 million) and will run for three years from February 1, 2024. Under the contract, Kapsch will provide customer service for the e-TOLL system at 100 distribution points across Poland. The distribution points will be open all year round and around the clock for motorists.
The scope of the contract includes services related to full customer service, such as registering customer data, providing information, accepting payments, charging user accounts and providing on-board equipment.
In addition, IT hardware with software and telecommunication connection is provided and configured for each of the 100 distribution points. The scope of services also includes the training of the staff of the distribution points as well as the provision of marketing material and on-board units.
e-TOLL sales outlets
The e-TOLL system became operational on June 24, 2021 and will be used to collect tolls for trucks and cars on a total of approximately 3,660 kilometers of Polish highways, motorways and national roads.
The service points for the electronic toll collection system are mainly service stations located along the toll road network at a maximum distance of 15 km from the entrance to the toll road section or at key points of the Polish road network.
Kapsch TrafficCom is a globally renowned provider of transportation solutions for sustainable mobility with successful projects in more than 50 countries. Innovative solutions in the application fields of tolling, tolling services, traffic management and demand management contribute to a healthy world without congestion.
With one-stop-shop solutions, the company covers the entire value chain of customers, from components to design and implementation to the operation of systems.
Kapsch TrafficCom, headquartered in Vienna, has subsidiaries and branches in more than 25 countries and is listed in the Prime Market segment of the Vienna Stock Exchange (ticker symbol: KTCG). In its 2022/23 financial year, about 4,000 employees generated revenues of EUR 553 million.