Over one billion transactions on NY …
Press Release 14. September 2023
New York1 min reading time
Over one billion transactions on NY Thruway tolling system: Kapsch TrafficCom celebrates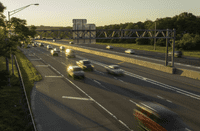 Milestone reached after system came online in November 2020
Achievement marks more than 17.4 billion total miles travelled
Kapsch TrafficCom, a global provider of intelligent transportation systems, proudly celebrates the remarkable milestone announced by the New York State Thruway Authority: the successful processing of over one billion transactions since the inception of the systemwide cashless tolling in November 2020.
This significant achievement marks more than 17.4 billion total miles traveled, translating to over $2.1 billion in toll revenues. Powering this massive effort is the state-of-the-art all-electronic roadside collection system, which is equipped with more than 2,000 gantry-mounted cameras designed, installed, and maintained by Kapsch TrafficCom.
"The dedication and precision with which this system operates are a testament to the innovation and expertise of Kapsch TrafficCom," said JB Kendrick, President at Kapsch TrafficCom North America. "Collaborating closely with the New York Thruway Authority, we have bolstered efficiency for all road users. This milestone underlines the importance and success of our efforts in providing robust and advanced tolling solutions."
All-electronic tolling (AET) systems, like the one Kapsch TrafficCom has implemented, present numerous advantages over traditional tolling methods. They provide faster and more efficient movement for motorists, reducing stop-and-go traffic and congestion at tolling points. This translates to fewer vehicle emissions, contributing to a cleaner environment. Moreover, the elimination of physical toll booths enhances road safety, reducing collision risks associated with queuing at toll barriers. The continued adoption of such systems is a step forward in creating smarter and more sustainable roadways for all.
Kapsch TrafficCom is a globally renowned provider of transportation solutions for sustainable mobility with successful projects in more than 50 countries. Innovative solutions in the application fields of tolling, tolling services, traffic management and demand management contribute to a healthy world without congestion.
With one-stop-shop solutions, the company covers the entire value chain of customers, from components to design and implementation to the operation of systems.
Kapsch TrafficCom, headquartered in Vienna, has subsidiaries and branches in more than 25 countries and is listed in the Prime Market segment of the Vienna Stock Exchange (ticker symbol: KTCG). In its 2022/23 financial year, about 4,000 employees generated revenues of EUR 553 million.