AI does not work without people
Press Release 3. August 2023
Vienna2 min reading time
AI does not work without people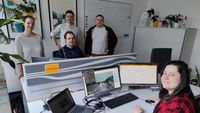 Value creation potential of the technology estimated at up to EUR 137 billion
"Responsible Annotation" project enables people with disabilities to participate in working life
Vienna, August 3, 2023 – From ChatGPT to Midjourney, AI is on everyone's lips – but while the market seems to be dominated by American tech companies, there are also promising AI-based technologies and great growth potential in Austria, for example at Kapsch TrafficCom.
The consulting firm Accenture estimates the gross value added of the sector at up to EUR 137 billion over the next 20 years. However, it is often overlooked that modern AI systems cannot exist without extensive training by humans.
Responsible Annotation Pilot Project
Out of the motivation to open up this growing field of work for people disadvantaged in the job market, a successful pilot project titled "Responsible Annotation" was created at Kapsch TrafficCom in 2019. This gives youths and young adults at risk of exclusion the opportunity to get a taste of professional life and learn about new job opportunities in the field of data annotation and data validation as part of a work training program lasting several weeks.
"Since April 2019, not only have more than 90 people completed the work training, but we have also found long-term employment for 14 people," says Beate Fabian, project manager at Kapsch TrafficCom. The annotation team at Kapsch TrafficCom does indispensable work for applications in the areas of automated number plate recognition and vehicle classification.
What does annotation mean?
Annotation is the addition of information and labels to data and is one of the fundamental requirements for modern AI - because the corresponding systems must be trained before they can work independently.
Expansion of the offer planned
The next step is to establish a service offer for other companies in order to create more jobs for people with disabilities.
To this end, Beate Fabian, Markus Wurm (both Kapsch TrafficCom), Martin Hartl (formerly Kapsch TrafficCom) and the AI researcher Lukas Fischer (Software Competence Center Hagenberg) founded the independent association "Responsible Annotation", which wants to promote an inclusive labor market around annotation and AI in Austria and set corresponding offers.
"Data annotation is used wherever AI is used. This concerns areas such as order and quality management, but also research fields in medicine and technology. For us, it's about bringing companies together with the people who can do this work," Fabian concludes.
Kapsch TrafficCom is a globally renowned provider of transportation solutions for sustainable mobility with successful projects in more than 50 countries. Innovative solutions in the application fields of tolling, tolling services, traffic management and demand management contribute to a healthy world without congestion.
With one-stop-shop solutions, the company covers the entire value chain of customers, from components to design and implementation to the operation of systems.
Kapsch TrafficCom, headquartered in Vienna, has subsidiaries and branches in more than 25 countries and is listed in the Prime Market segment of the Vienna Stock Exchange (ticker symbol: KTCG). In its 2022/23 financial year, about 4,000 employees generated revenues of EUR 553 million.