First tolling hardware to align with EU…
Press Release 15. June 2023
Vienna1 min reading time
First tolling hardware to align with EU taxonomy regulation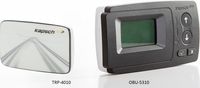 TÜV certifies smallest, lightest and most sustainable On-Board Units
Vienna, June 15, 2023 – Two of the flagship products of Kapsch TrafficCom, the On-Board Units TRP-4010 and OBU-5310, have received TÜV certification.
On-Board Units (OBUs) are on-board devices for contactless toll collection, used by millions of heavy goods and personal vehicles. As part of the analysis, a comprehensive comparison was conducted with competitor products of equal functionality, establishing that both OBUs, besides being the smallest and lightest, are the most sustainable in their class.
Moreover, the two products are the first electronic tolling solution elements to align with the EU taxonomy regulation on climate change. TÜV Austria, a member of the globally renowned TÜV network of independent technical inspection associations, has validated and certified that the calculations and associated reports of the two product carbon footprints are meeting the requirements outlined in the EN ISO 14067:2018 standard.
The TÜV certification was granted based on a rigorous assessment that considered the carbon footprint associated with every stage of the product lifecycle, including raw material sourcing, design, production, transportation, use, and end-of-life management.
Kapsch TrafficCom is a globally renowned provider of transportation solutions for sustainable mobility with successful projects in more than 50 countries. Innovative solutions in the application fields of tolling, tolling services, traffic management and demand management contribute to a healthy world without congestion.
With one-stop-shop solutions, the company covers the entire value chain of customers, from components to design and implementation to the operation of systems.
Kapsch TrafficCom, headquartered in Vienna, has subsidiaries and branches in more than 25 countries and is listed in the Prime Market segment of the Vienna Stock Exchange (ticker symbol: KTCG). In its 2022/23 financial year, about 4,000 employees generated revenues of EUR 553 million.