WHO limit value for particulate matter …
Press Release 31. March 2023
Berlin2 min reading time
WHO limit value for particulate matter remains largely unattained throughout Europe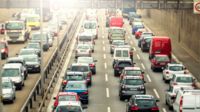 Of more than 340 European cities, only eleven reach the WHO limit value
Key is to limit traffic congestion, says traffic expert Marko Frank
Berlin, March 31, 2023 – In its health-related guideline on air quality, the WHO is recommending a maximum limit for particulate matter of 5 μg/m³ (micrometres/cubic metre) in order to protect health. Achieving this is anything but easy: For example, according to a study by the European Environment Agency, only eleven of the more than 340 cities registered complied with the WHO limit for particulate matter pollution. The greatest health threat here comes from traffic density in cities that exposes the population to particulate matter pollution.
"The main source of urban particulate pollution is motorised road traffic," explains Marko Frank, traffic specialist at Kapsch TrafficCom: "Brake and tyre abrasion in particular play a major role here, which is why measures currently under discussion such as a ban on internal combustion engines or e-fuels will only result in a slight improvement. In reality, it's about reducing the traffic load and a better distribution of the general mobility demand."
Solutions are available
There are already a large number of technologies that have been proven to reduce exhaust gas and particulate matter pollution in cities. Applications such as dynamic congestion charging, advanced traffic management systems or even low-emission zones can not only improve emission levels, but also ensure the achievement of transport policy goals. Examples of that are traffic calming around schools and hospitals or smoother traffic at peak times to avoid congestion.
Dynamic congestion charging
A dynamic congestion charging system, such as the one currently being introduced in Gothenburg, Sweden, can set an appropriate toll depending on the traffic load in order to reduce the volume of traffic within the toll zone. In London, where a similar system has been in operation since 2003, preparations are underway to extend the low-emission zone to the entire city area in order to further improve air quality.
Appeal to politics
"These technologies already exist – but what is often lacking is the political will to use these instruments. As an industry, we can only appeal to politicians to take these possibilities seriously and use them," Marko Frank concludes.
More information on the impact of current technologies for traffic calming and emission reduction can be found here.
Kapsch TrafficCom is a globally renowned provider of transportation solutions for sustainable mobility with successful projects in more than 50 countries. Innovative solutions in the application fields of tolling, tolling services, traffic management and demand management contribute to a healthy world without congestion.
With one-stop-shop-solutions, the company covers the entire value chain of customers, from components to design and implementation to the operation of systems.
Kapsch TrafficCom, headquartered in Vienna, has subsidiaries and branches in more than 25 countries and is listed in the Prime Market segment of the Vienna Stock Exchange (ticker symbol: KTCG). In its 2021/22 financial year, 4,220 employees generated revenues of about EUR 520 million.