Millions of Seville citizens to benefit…
Press Release 28. February 2023
Vienna / Seville2 min reading time
Millions of Seville citizens to benefit from smart mobility management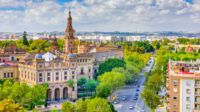 Improved traffic flow and elevated environmental protection with first deployment of Mobility Data Platform
Vienna/Seville, February 28, 2023 – Real-time parking information, dynamic traffic control to avoid congestion, or demand-based control of public transport during major events – ideas that are often heralded as the future of traffic planning.
In the Spanish city of Seville, those concepts are becoming reality. By introducing the Mobility Data Platform (MDP) by Kapsch TrafficCom over the next 17 months, Seville is taking charge of improving mobility for more than 1.5 million people in the metropolitan region.
Improving decision-making intelligence
In Seville, the Mobility Data Platform (MDP) will be fed data from hundreds of sensors, cameras and existing traffic systems all across the city, allowing city authorities to accurately predict and manage mobility needs and traffic flows in real time. This includes both diagnostic (what has happened and why) and predictive (what will happen) analytics, turning dispersed data into accessible information.
The MDP allows authorities to get the most value out of the data they are already collecting and the data that will be sourced through new sensors. It provides them with better decision-making intelligence based on the advanced use of data, complementing existing traffic management systems.
"Dynamic public transport regulation and congestion prediction are just a part of our system's capabilities. With the Mobility Data Platform, we are enabling Seville to better guide mobility within the city and react to different events quicker and more accurately", comments Carolin Treichl, EVP EMENA (Europe, Middle East, Northern Africa) at Kapsch TrafficCom.
Emissions monitoring
In addition to more efficient and effective mobility management, data on temperature, air quality, emission levels and noise pollution will also feed into the MDP, allowing authorities to monitor parameters that indicate environmental issues or collective health problems in the city and take measures accordingly.
The Kapsch Mobility Data Platform will be implemented over the coming 17 months. It is part of the "Horizonte Sevilla Inteligente" initiative of the Seville City Council and is supported by the European Regional Development Funds (ERDF), with the goal of enabling the achievement of the Sustainable Development Goals (SDGs).
Kapsch TrafficCom is a globally renowned provider of transportation solutions for sustainable mobility with successful projects in more than 50 countries. Innovative solutions in the application fields of tolling, tolling services, traffic management and demand management contribute to a healthy world without congestion.
With one-stop-shop-solutions, the company covers the entire value chain of customers, from components to design and implementation to the operation of systems.
Kapsch TrafficCom, headquartered in Vienna, has subsidiaries and branches in more than 25 countries and is listed in the Prime Market segment of the Vienna Stock Exchange (ticker symbol: KTCG). In its 2021/22 financial year, 4,220 employees generated revenues of about EUR 520 million.