Latvia: High-tech traffic management …
Press Release 8. February 2023
Vienna / Riga1 min reading time
Latvia: High-tech traffic management system to reduce crash risk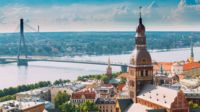 Advanced traffic management system (ATMS) to improve driving conditions
The first public-private-partnership transport project in the region
Vienna/Riga, February 8, 2023 – On a 23km stretch on Pan-European highway E-67 circling Riga, technology by Kapsch TrafficCom will make the highway traffic safer and more sustainable.
Starting from the last quarter of 2023, drivers will benefit from a system that measures road and weather conditions and collects data on vehicle numbers and speed. That way roadway operators can make decisions based on real-time information. This increases road capacity while traffic flows remain stable. Additionally, emissions-heavy congestions will be kept to a minimum, ensuring faster and more comfortable routes for thousands of daily drivers.
"As the first public-private-partnership project in the sector and the region, it is an important signpost for future developments when it comes to roadway safety and sustainability," comments Marko Frank, mobility expert and regional sales director at Kapsch TrafficCom.
While there are dozens of cameras, sensors, radar systems and even two weather stations installed along the highway, the central element is the versatile Dynac software platform that connects and manages all other aspects of the advanced traffic management system. It will provide traffic operators with real-time information on road and weather conditions, enabling better decision-making processes and improving highway safety.
"The safe and effective operation of the Kekava bypass is our key objective along the following 20 years of operation. We feel confident that the technologies delivered by Kapsch TrafficCom will support us to achieve those objectives. We look forward for the implementation of the Kapsch TrafficCom systems and making the bypass available for the traffic in the near future," comments Juris Frīdmanis, General manager of the Private Partner JSC "Kekava ABT".
Kapsch TrafficCom is a globally renowned provider of transportation solutions for sustainable mobility with successful projects in more than 50 countries. Innovative solutions in the application fields of tolling, tolling services, traffic management and demand management contribute to a healthy world without congestion.
With one-stop-shop-solutions, the company covers the entire value chain of customers, from components to design and implementation to the operation of systems.
Kapsch TrafficCom, headquartered in Vienna, has subsidiaries and branches in more than 25 countries and is listed in the Prime Market segment of the Vienna Stock Exchange (ticker symbol: KTCG). In its 2021/22 financial year, 4,220 employees generated revenues of about EUR 520 million.