Sustainable gantry from Austria: wood …
Press Release 30. November 2022
Vienna2 min reading time
Sustainable gantry from Austria: wood beats metal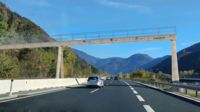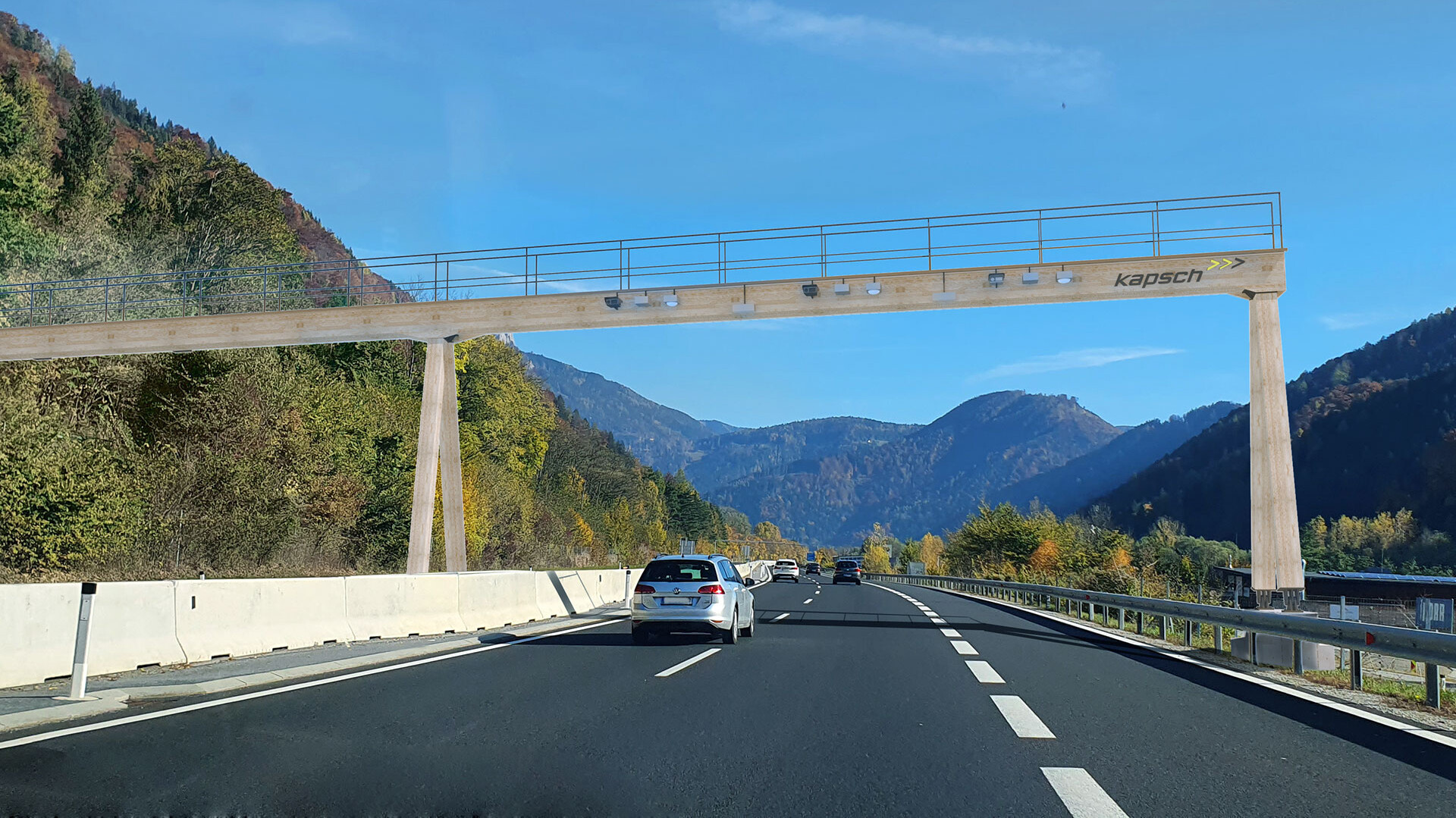 New green gantry with positive CO2 balance
Meets all relevant European norms and standards
Vienna, November 30, 2022 – With the "Green Gantry", Kapsch TrafficCom introduces a gantry made from local and renewable resources that paves the way for sustainable road infrastructure with its positive carbon footprint.
Everyone is familiar with the sight of the mostly gray steel gantries on highways, with display panels, sensors and cameras mounted on them. For decades, these gantries have been made of steel and aluminum, with a correspondingly poor carbon footprint – on average, each steel gantry causes over 30 tons of CO2 during its production. In contrast, the gantry developed by Kapsch TrafficCom, which is made of Austrian wood, binds more than 20 tons of CO2 and thus has a positive carbon footprint.
Resilient and sustainable
Katharina Rynesch, Innovation Manager at Kapsch TrafficCom, explains further advantages: "Our Green Gantry not only has a positive CO2 balance, it also is equally stable and resistant to environmental impacts by using a natural material."
The Green Gantry is protected from water, ice and snow by a constructive wood protection, guaranteeing a lifespan of over 20 years. Moreover, even after it is dismantled, it does not pollute the environment, as no harmful chemical substances are used to treat the wood.
Meets all relevant norms and standards
The Green Gantry complies with all relevant European norms and standards and the design is perfectly matched to the properties of wood while still being competitive. The modular design allows an installation comparable to standard steel bridges and also with the same service life and maintenance intensity.
"Our road infrastructure is currently a blind spot in efforts to make the transport sector more sustainable. With our Green Gantry, we hope on the one hand to contribute to greater sustainability, but on the other hand also to demonstrate that even concepts that have been established for many years can be rethought and made sustainable," Rynesch concludes.
This project is funded by the Waldfonds, an initiative of the Austrian Federal Ministry of Agriculture, Forestry, Regions and water Management and is carried out as part of the Think.Wood programme of the Austrian Wood initiative together with research partners Institute of Timber Engineering and Wood Technology (Graz University of Technology), HASSLACHER Group and denkstatt GmbH.
Kapsch TrafficCom is a globally renowned provider of transportation solutions for sustainable mobility with successful projects in more than 50 countries. Innovative solutions in the application fields of tolling, tolling services, traffic management and demand management contribute to a healthy world without congestion.
With one-stop-shop-solutions, the company covers the entire value chain of customers, from components to design and implementation to the operation of systems.
Kapsch TrafficCom, headquartered in Vienna, has subsidiaries and branches in more than 25 countries and is listed in the Prime Market segment of the Vienna Stock Exchange (ticker symbol: KTCG). In its 2021/22 financial year, 4,220 employees generated revenues of about EUR 520 million.