How Road User Charging could help …
Press Release 9. June 2022
Vienna / London2 min reading time
How Road User Charging could help London fight congestion and boost long-term transport funding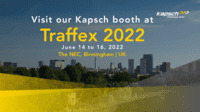 With more electric vehicles on the road than ever, the congestion challenge in London remains large whilst congestion charge revenues are falling.
"Pay-per-mile Road User Charging (RUC) would provide fair, appropriate and effective solutions to the capital's pressing congestion and funding challenges," suggests Steve Parsons.
Kapsch TrafficCom will be present at this year's Traffex in Birmingham from June 14 to 16.
Vienna/London, June 9, 2022 – In a bid to control traffic congestion and minimise associated air pollution, London Mayor Sadiq Khan has announced plans to expand London's Ultra Low Emissions Zone (ULEZ) during 2023.
The aim is that the expanded ULEZ will help to reduce NOx emissions from vehicles in Greater London by up to 330 tonnes per year and CO2 emissions by up to 150,000 tonnes. But although this is clearly great for the health of the city, the adoption of electric vehicles, which is gathering pace across the UK, means that fuel consumption – and related fuel duties – are declining. This, in turn, will further reduce funding available for transportation, while doing nothing to reduce the total number of vehicles on the road – and the related congestion challenges.
When it comes to solving London's congestion and funding challenges, road user charging (RUC) is likely to play a key role. This technology looks at both the distance travelled by motorists in their vehicles, as well as the type and emissions status of vehicles – and applies charges based on these criteria.
"Because of its 'pay-per-mile' approach, RUC is much fairer than traditional congestion charging solutions that apply flat-rate charges for all vehicles, whether they travel for just a few miles in the restricted zone, or drive around all day," explains Steve Parsons, Sales Director at Kapsch TrafficCom.
"At Kapsch TrafficCom, we provide the powerful back-end systems that power London's congestion charging, LEZ and ULEZ schemes. What's more, our broad portfolio of RUC technology solutions and tolling and congestion charging expertise provides a clear and uniquely low-risk roadmap to RUC across the capital when the time is right," Steve Parsons continues.
Having deployed a nationwide satellite distance-based tolling solution for Heavy Goods Vehicles in Bulgaria, Kapsch has also field-tested end-to-end RUC capabilities – with excellent outcomes and KPIs achieved.
If you want to find out more about RUC and other ongoing projects, come by booth F040 at this year's Traffex in Birmingham (14 - 16 June) and say hello to Steve!
Kapsch TrafficCom is a globally renowned provider of transportation solutions for sustainable mobility with successful projects in more than 50 countries. Innovative solutions in the application fields of tolling, tolling services, traffic management and demand management contribute to a healthy world without congestion.
With one-stop-shop-solutions, the company covers the entire value chain of customers, from components to design and implementation to the operation of systems.
Kapsch TrafficCom, headquartered in Vienna, has subsidiaries and branches in more than 25 countries and is listed in the Prime Market segment of the Vienna Stock Exchange (ticker symbol: KTCG). In its 2021/22 financial year, 4,220 employees generated revenues of about EUR 520 million.