Blog | Kapsch TrafficCom 7. September 2023
3 min reading time
From Congestion to Connection: The Top 6 Benefits of Orchestrated Connected Corridors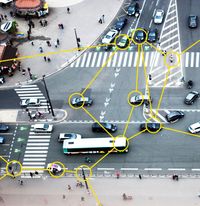 For highway and city authorities worldwide, the challenges of managing traffic congestion and ensuring road safety have become ever more pressing. Tragically, the number of road traffic accidents and fatalities continues to be a cause for concern, compelling authorities to seek innovative solutions.
One such solution is Orchestrated Connected Corridors (OCCs), a concept built on a single platform suite that brings digital transformation to both highway and urban environments. OCCs provide a seamless network of connected infrastructure, including smart vehicles, advanced data collection and processing platforms, and real-time communication systems.
This integrated approach forms a basis for cohesive, consolidated, and modular services, enabling increased safety, mobility, and sustainability on roadways. Additionally, OCCs offer the flexibility to expand capabilities in response to evolving needs, allowing authorities to advance their goal of 'zero accident' roadways while supporting a range of new, value-added services for all road users.
In this Kapsch TrafficCom blog, we outline the top six benefits for drivers and authorities looking to make their roads safer and more efficient.
The top 6 benefits of OCCs
1. Hazard warnings for improved road safety
OCCs warn drivers about hazards on the road ahead, either using roadside signage, or in-vehicle messaging to the dashboard systems. Alerts that can be passed to drivers include notifications of accident zones or traffic jams ahead, as well as road and lane closures and the presence of work teams on the roadway (Road Works Warnings). This means that drivers can take preventative action, making highways, urban roadways, and intersections safer.
2. Vulnerable Road User (VRU) Safety
OCCs can help to protect Vulnerable Road Users (VRUs) such as pedestrians, bicyclists, mopeds, scooters, etc. With sensing technology and direct communications with drivers in their vehicles, OCCs can increase awareness of VRUs and help protect them by preventing accidents.
3. Driver in-vehicle signage and alerts for increased mobility
Information from OCC systems – communicated to drivers in their vehicles – helps to reduce travel delays. This is particularly the case where roadway and traffic conditions change quickly, or where planned or unplanned traffic events occur frequently, or where authorities implement dynamic speed limits depending on the traffic load.
In such cases, drivers can receive alerts relating to where congestion is slowing traffic and see notifications of the speed limit where they are travelling.
4. Improved Traffic Management and planning
One of the key use cases for OCCs is improved traffic management and demand management. To achieve this, the leading OCC solutions offer seamless integration with systems for improved traffic management, including dynamic traffic rerouting in the event of congestion or road incidents, traffic light timing adjustments for 'green wave' driving, dynamic charging during peak and off-peak times, and much more.
5. Support for congestion charging and low-emissions zones
Because OCCs use machine-learning-driven image processing to provide granular data on vehicles and their locations, they can support a wide range of congestion and emissions reduction plans in a flexible way. This is often a key driver for deployment, especially in cities looking to reduce congestion and emissions from stop-start traffic on their roadways.
6. New commercial opportunities for traffic authorities
The ability to understand real-time traffic conditions supports a range of new commercial opportunities based around creating, and billing for, value-added services for drivers. In particular, these kinds of solutions can support dynamic charging based on congestion levels or charging for specific lanes at specific times of day, or during peak times. Some examples of value-added services that enable new commercial opportunities in North America include the ability to support High Occupancy Vehicle (HOV) or High Occupancy Toll (HOT) lanes with associated charging.
How Kapsch TrafficCom can help
Kapsch TrafficCom offers unique roadside infrastructure and traffic management experience and capabilities combined with an end-to-end portfolio of traffic and tolling services that leverage cloud, edge, and light infrastructure sensors and communication devices that ensure success for complex OCC projects. Based on our unique industry knowledge and technical capabilities, we have been chosen to deliver and manage large-scale Connected Vehicle projects in North America, Europe, the Middle East, Asia-Pacific and Australia.
More information
If you want to find out more about what the Orchestrated Connected Corridor is and how it can make roads safer and more efficient, visit our dedicated OCC website or get access to our folder below.
Get in touch with our experts