Blog | Kapsch TrafficCom 27. May 2021
3 min reading time
Betting on a more sustainable mobility.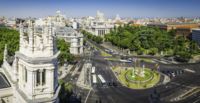 Javier Aguirre, President of Kapsch TraffiCom for Spain and Portugal.
It is time to reimagine mobility and devise strategies that will help us change our travel behavior, and devise more efficient and resilient transport systems so we can enjoy a world with less pollution.
In the first months of the pandemic we witnessed a significant drop in pollution rates worldwide due to a drastic reduction in travel and commuting, which fell by 70% during the worst stage of the state of emergency, according to the Spanish´s Directorate-General for Traffic (DGT) data. Now, with vaccination underway, it´s the beginning of the end of the health crisis. So it is expected that, little by little, personal travel will return and we might experience pre-crisis pollution conditions, along with a tendency to urban concentration.
Another change the pandemic has brought is an increase in private car use as opposed to public transportation. According to INE data, the number of public transport users fell by 46.7 % in 2020, which means 2.3 billion fewer journeys, as a result of the severe restrictions on movement to contain the coronavirus pandemic. The fear of infection is also a fact, as demonstrated by the Kapsch TrafficCom Index survey, which shows that only 59 percent of Spaniards consider using public transport for their journeys. In addition Spain's car fleet is an issue, as it's one of the most aged in Europe.
Achieving safe, sustainable, agile and healthy mobility requires a commitment to holistic management, with state policies that are based on collaboration. Governments and city councils must approach a strategy from a dual perspective: on one hand, social engineering and, on the other, implementing advanced technologies, facing and leading the challenge of digitalizing the sector as a state policy.
To manage congestion and pollution, demand management is key. It's a strategy that has the potential to almost completely eliminate congestion and generate important social benefits. Demand management means influencing user behavior with policies that can take the form of rules, recommendations, incentives and dynamic toll rates. A clear example is the city of Madrid. With the help of Kapsch's technology the city is trying to solve mobility problems by processing and retrieving information in real time.
A recent study by Juniper Research suggests that intelligent traffic management systems could save cities €230 billion by 2025 by reducing emissions and congestion. According to estimates by the OCDE, traffic congestion costs represent 2% of developed countries' GDP annually, in terms of time waste, increased fuel costs, environmental and urban degradation, as well as accidents. In Spain, the figure amounts to around 15,000 million euros, a figure compared to the budgets of some autonomous communities.

At the same time, it is time to implement new policies that encourage the use of public transport. The Administration must take the lead: fostering trust, bringing public transport closer to the citizen, and making it simpler so they do not feel the need to take the car must be priorities. In this sense, the mobility strategy that's being developed by the Ministry of Transport, Mobility and Urban Agenda (MITMA) and the Mobility Law bring a promising scenario. These two initiatives are going to have a very noticeable impact in Spain, positioning us as a reference in sustainable mobility.
The pandemic has presented us with an important opportunity to enjoy a world with less congestion and pollution. Let's seize the moment and design a future with innovative transport solutions that allow users to reach their destination in a timely, punctual, safe, efficient and environmentally friendly manner.
Find out more.
For more information on how to move quicker toward sustainable mobility n your city or on your highway network, visit Sustainable Mobility, or contact Kapsch TrafficCom at info@kapsch.net.