Blog | Kapsch TrafficCom 1. September 2020
1 min reading time
How to tame city traffic after Corona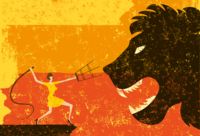 After we witnessed what life without the daily rush-hour congestion could be like, city leaders now have a window of opportunity to set up the mobility of the future in line with smarter principles.
Research by Kapsch TrafficCom for instance shows, a more intelligent steering of traffic lights alone can reduce street congestion by 25%.
The idea to adapt signal timing to real-time traffic is not a dream anymore. One of the relatively easy and accessible applicable strategies to improve Traffic is by constant detection and optimization of underperforming intersections with proper signal plans and arterial coordination and by modern smart adaptive signal controls. At Kapsch, we use state-of-the-art machine learning to identify bottlenecks on the road and automatically generate improvements. In this way, even minor adjustments have major effects on the smooth flow of traffic.
Another data-driven method against congestion is intelligent routing to stop saturation of main arterials within a street network. The problem: traffic information services and tools often suggest the same route for all users. The solution is to provide alternative recommendations to split traffic onto parallel navigation.
Measures like these work best in combination because they reinforce each other.

Find out more how to tame city traffic with our new WHITEPAPER Imagine a World without Congestion – Mobility of the future.