Highways
On roads built for high-speed traffic, safety is key. Find out how Kapsch TrafficCom makes the world's highways safer and more efficient.
Highways play an important role in making our everyday lives easier. They provide an essential means of getting from A to B in a fast and efficient way. However, high-speed traffic also brings certain challenges. On roads built for high-speed traffic, safety is of vital importance. The more real-time information motorists receive on the current traffic situation, the safer they are while driving.
For instance, roadside electronic message signs or in-vehicle displays can support drivers by
warning them of traffic congestion,
suggesting alternate routes,
aiding in the flow of traffic by dynamically adjusting speed limits.
This information also helps road operators to quickly respond to changes in traffic conditions and efficiently manage incidents.
Increasing safety, decreasing travel time
Thanks to our vast experience, Kapsch TrafficCom provides a wide range of solutions in the field of tolling, traffic and mobility management for highways. All of them were designed to reduce travel time while simultaneously improving safety.
Our integrated multimodal traffic and mobility management solutions designed for interurban areas and large city highways
significantly increase the capacity of existing road networks,
automate traffic management actions and incident responses,
speed up traffic flow,
reduce vehicle-related air pollution and improve economic outcomes.
Our highway traffic management solutions
anticipate congestion hotspots before they occur,
predict changes in traffic conditions and implement measures to optimize flow,
effectively reduce congestion across entire roadway networks.
Our highway tolling solutions
control traffic flow,
reduce congestion and harmful emissions,
provide a better experience for road users.
Getting there faster. Getting there safer. And getting there in a more environmentally friendly way.
That's the vision we follow with our tolling and traffic management products. To turn this vision into an everyday reality for motorists around the world, we have developed a series of interurban traffic management and tolling concepts.
We offer specific solutions for
Highway traffic management
Tunnels and bridges traffic management
Integrated multimodal traffic and mobility management
Satellite tolling
DSRC/RFID-based tolling
Mobile tolling
Video tolling
Managed lanes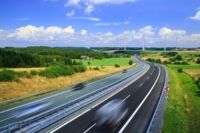 Further areas of application for our solutions