Blog post 22. June 2021
2 min reading time
Alexander Brocanelli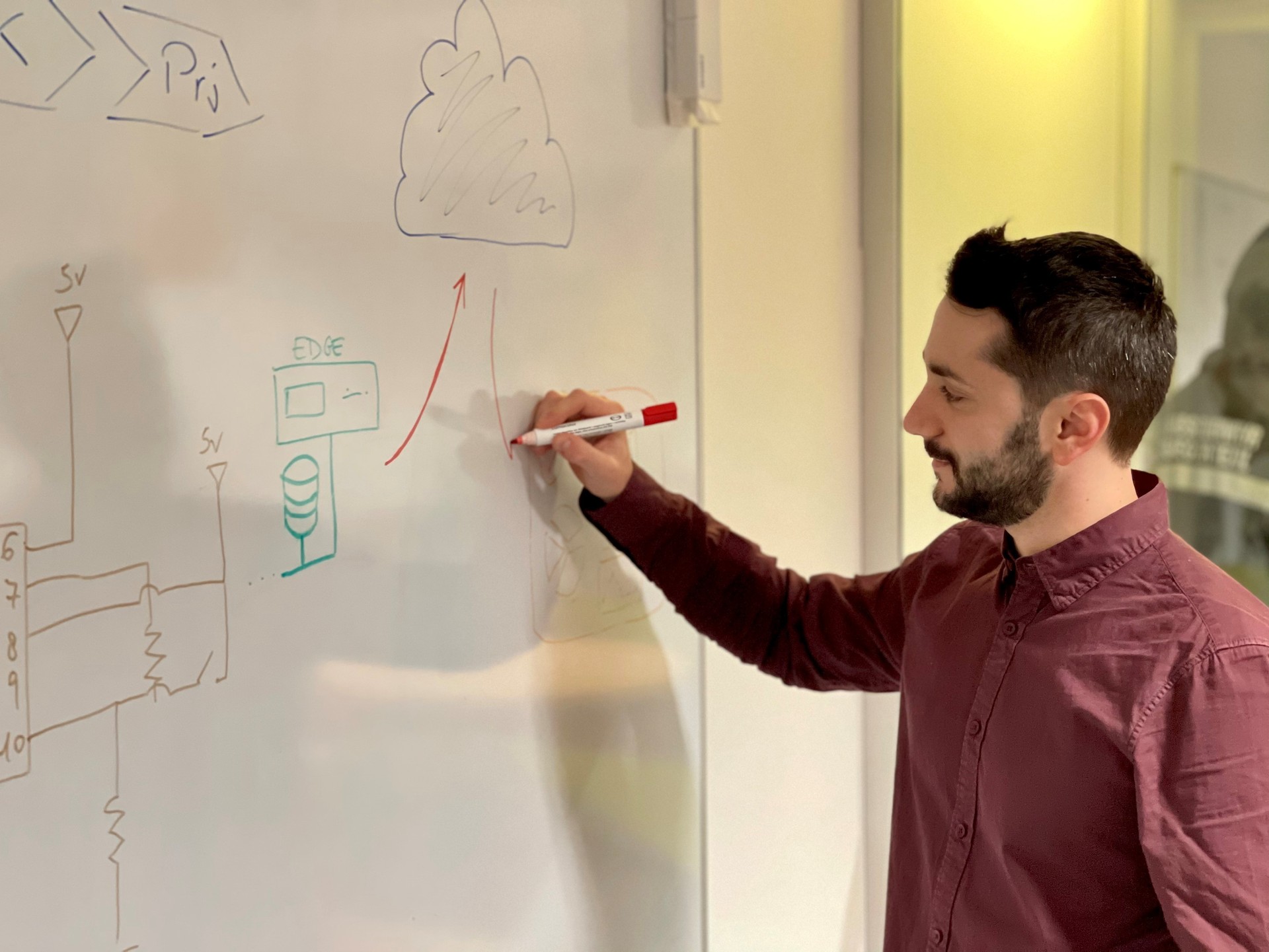 "Stepping out of the lecture hall to find out what tools the "best in class" in technology are using"
Making coffee? As a native Italian, this would be one of my strengths, but it had nothing to do with my tasks during the internship for university students at Kapsch Businesscom.
My mentor and my colleagues from the "Solution Development & Consulting" department were interested in my expertise, my independence and my motivation. From the first day, I was given the opportunity to organize my tasks independently and to actively participate in the department's projects.
I was immediately welcomed and appreciated as a colleague in the team.The coffee remained a coffee machine's task.
Working on the digitization of companies
Already during my engineering studies and thanks to my previous experiences, I got involved with topics related to digitization and decided to continue my education in the direction of electronics and computer science. The internship offered the perfect insight into the world of innovation in industry. My expectations were exceeded: Things went much further at Kapsch. I was able to fully develop my passion for technologies: Data structures, artificial intelligence, transmission protocols, microcontrollers, electronics, sensor technology. I was able to learn a lot on the job.
In six months, I was able to help complete several projects. I had the opportunity to put the knowledge I had acquired in my studies into practice: for example, in the production of 3D models or the optimization of industrial processes. Even more interesting were the experience in other fields of expertise, such as planning a cloud infrastructure, selecting electronic components or writing firmware for Kapsch products.I found the continuous coordination with my mentor Mathias, who always made sure I could pursue my professional interests, to be very important.
Not only technology
Very valuable for us engineers are the communication skills, which one can hardly acquire during studies. My department "Solution Development & Consulting" has as its core the development of innovative solutions. But to do this successfully, it is needed to correctly understand the requirements and expectations of customers and colleagues, and then properly communicate the added value of these innovations. With the support of my experienced mentor, I was able to successfully improve my ability to share findings and research results and create effective presentations of solutions. The most valuable "skills" of a business consultant. I found really interesting the good insight I got into the dynamics of a consulting firm.
Leap into the outside world
The experience at Kapsch Businesscom provided me valuable insights that are not available in my academic studies alone. I got a good impression of what the structures in large companies look like and what these companies really need. This information is the cornerstone for achieving my professional ambitions: I have been given the tools to better assess and adapt my future career path so that I can realize my goals faster and more successfully!